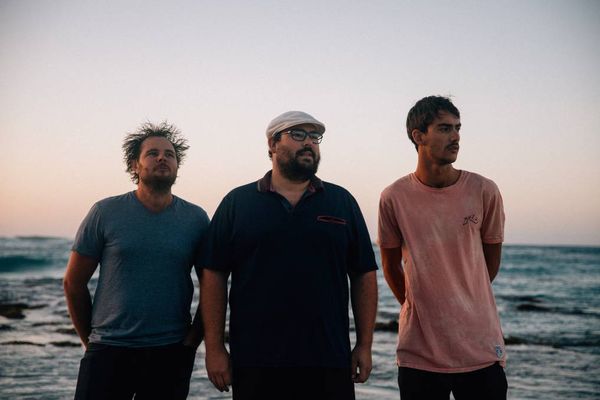 Esperance's very own three-piece Grand Casual are preparing to travel more than 1,200 kilometres in the coming weeks, co-headlining the Goldfields-Esperance Touring Circuit. 
The state's peak music body WAM first announced the new circuit in March, following the success of previous circuits in the Wheatbelt and Pilbara regions. 
The initiative is a partnership with the Goldfields-Esperance Development Commission as part "Local Projects, Local Jobs", with additional support from a number of local governments and organisations. 
The tour will feature four free performances over four days, headlined and supported by local acts in community venues and public spaces across the region. 
Grand Casual member and local musician Kyron Smithson said the circuit was a great opportunity and due to coincide with the release of their first single 'Soldiers'. 
"This support for regional musicians is huge," he said. 
"We're all kind of in this isolated zone so, certainly with the touring element and the cost of touring, it can make it really difficult to get out and play other shows. 
"The backing shows that these organisations understand the value of what we do and how positive music is for the community." 
The tour begins in Esperance, with a free, family-friendly event at the Cannery Arts Centre on Thursday, April 12, from 6pm, with local acts JohnRatcliff, Rasgueado, and Rachel Vibart. 
Mr Smithson thanked the Cannery for their ongoing support, having donated the venue for the event. 
"I think because we have such a well established music scene here in Esperance, it's probably made it a bit easier to facilitate," he said. 
Mr Smithson also extended thanks to WAM regional officer Nigel Bird for his work with the touring circuit. 
"Nigel has put a massive amount of work into getting the touring circuit up and happening," he said. 
"He would have put hundreds of hours into it and had a massive workload." 
To find out more information about the Tour, visit the event page on Facebook here. 
To listen to Grand Casual's first single, visit www.triplejunearthed.com/artist/grand-casual
- Jesinta Burton