West Australian Music today announced a new regional roadshow bringing a series of free, live and local music performances to the Goldfields next month. 
The Goldfields-Esperance Touring Circuit is hitting the road for the first time from April 12, the circuit stems from the success of previous Wheatbelt and Pilbara touring circuits. 
The pilot tour will see four free performances over four days — all headlined and supported by local acts and will traverse more than 1200km to explore the thirst for contemporary live music in the region. 
The shows will be held in community venues and public spaces in Esperance, Norseman, Kalgoorlie, and Leonora. 
WAM regional officer Nigel Bird said the rare program would provide regional musicians with much-needed opportunities to hone their craft on stage and build new intra-regional connections. 
"While also introducing local communities to the vast breadth of talent hidden in their own backyards," he said. 
"If successful, this pilot tour will prove that contemporary live music has a much greater role to play in the Goldfields-Esperance region, paving the way for ongoing development of programs such as this that support the growth of regional artists."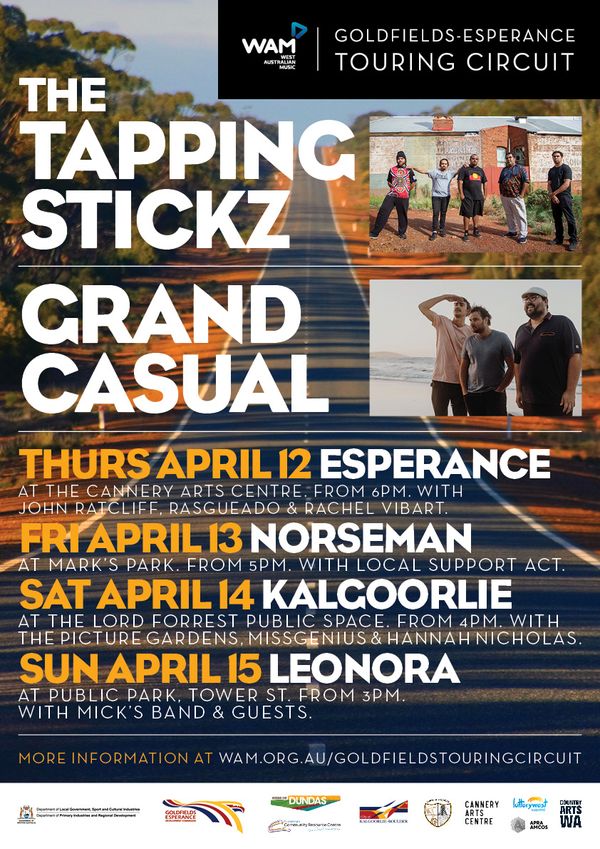 Headlining the tour are two bands from opposite ends of the region — Leonora-based The Tapping Stickz and Esperance-born three-piece Grand Casual. 
The three songwriters for The Tapping Stickz, Jeffery Wicker, Mark Gleeson and Bert Hayden, each recorded a song as part of WAM's Demos from The Northern Goldfields community recording compilation project. 
Grand Casual's combination of blues, jazz and soul have been steadily building momentum since late 2017. 
The group consists of Matt Cooper, Joe Franzone and Kyron Smithson, the band's sound is driven by a wide range of influences including Sticky Fingers and The Black Keys and they are releasing their first single Soldiers to coincide with this tour. 
Bird said the headliners would also be joined by a selection of top notch local support acts at each venue to ensure all shows were a true testament to the rich talent flowing through the region. 
"One of the exciting things is that we are pairing two acts from opposite ends of the region and acts that don't already have an existing relationship," he said. "But after five or six days in a van together they are going to get to know each other pretty well and that was one of the intentions." 
All shows are supported by local government associations and arts organisations and are presented in partnership with the Goldfields-Esperance Development Commission. 
To build ground-swell for the inaugural tour, WAM have curated a playlist available for streaming via Soundcloud that showcases the distinctive sounds of artists involved. 
It includes a sneak peek at the three singles from the upcoming Demos From The Northern Goldfields release, written by members of The Tapping Stickz, and is available through WAM's Soundcloud page.
Andrew Murdoch | Kalgoorlie Miner