Have to say I was surprised to hear of the venue for our Wamfest show. Grand Casual will kick it at the Lot Party which is basically a mini Festival setup in the heart of Perth. Checked it out last year grand setup. Also stoked to catch up with the lads from The Tapping Stickz who are right there alongside us. If you're Perth ways Nov 3rd make sure to head in for some super casual tunes.
Full press release from WAM below!!!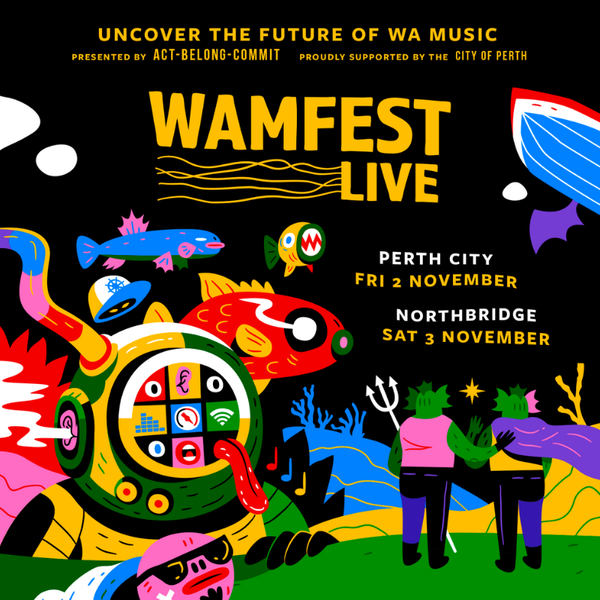 WAMFest presented by Act-Belong-Commit and proudly supported by the City of Perth is back to prove the future of WA music is brighter and bolder than ever, with hundreds of local acts set to impress crowds this November across a series of FREE live music events. 
Having just revealed the first 32 local acts kicking off festivities as part of WAMFest Live Friday's showcases in the City of Perth, WAM are proud to welcome another 116 ground-breaking WA artists to the bill as we unveil more on WAMFest Live Saturday's electrifying program of live music taking over 17+ stages throughout Northbridge. 
The latest lineup unearths plenty of standout talent, from recent BIGSOUND hits likeKaitlin Keegan, Demon Days, T$OKO and Bri Clark; to WAM Song of the Year 2018 winners J.F.K, Feels, Figurehead and Farraday's Cage; and stacks more exciting West Australian artists, bands, and producers from every genre revealed below. 
This year's WAMFest Live Saturday schedule will see Northbridge oozing music from every orifice, with traditional live music venues and multiple outdoor stages all hosting free live showcases throughout the day and late into the night. 
The much-loved Lot Party is sure to draw big crowds, with 24 acts performing acrosstwo stages at the outdoor mini-fest set up at Lot 10 South, Northbridge. Come down early Saturday arvo for WAM's Regional Showcase, featuring not-to-be-missed acts like the Tapping Stickz, MissGenius and Grand Casual fresh from WAM's Goldfields-Esperance Touring Circuit. Then stick around for big sets from the likes of The Money War, Odette Mercy & Her Soul Atomics, Davey Craddock, Hyclass, Axe Girl, Priscilla, Wooly Mammoth, Big Orange, Jamilla, Mal de Mer and heaps more! 
Just around the corner you can chill out to sets from solo performers in the Yagan Square Auditorium or head to the Perth Cultural Centre Amphitheatre to soak up feel-good vibes from the likes of Your Girl Pho, Almond Soy, The Hunting Birds and more. With both these outdoor stages open to punters of all ages. 
If venues are more your vibe, there are plenty opening their doors for carefully curated WAMFest Live showcases, including The Bird, Nevermind Small Club, Universal Bar, The Mustang Bar, The Boston, Badlands Bar, Paper Mountain, The Court, The Brass Monkeyand more to be announced. 
WAMFest Live Co-coordinator Mark Neal said, "This year's WAMFest Live lineup is a true testament to the phenomenal talent growing in WA. We were absolutely blown away by the quality of applications this year and can't wait for punters to uncover more of the musical gems hiding in our own backyard." 
With more than 25,000 predicted to attend, this is your chance to be part of the biggest local music event of the year! Don't miss this opportunity to uncover the future of WA music at WAMFest Live from Friday 2 to Saturday 3 November, with more events kicking off in regional WA and Perth suburbs in the surrounding weeks still to be announced. Stay tuned for the full lineup and schedule. 
JUST ANNOUNCED 
Ah Trees 
Almond Soy 
Angus Dawson 
Axe Girl 
Band of Missfits 
Belle Harvey 
Big Orange 
Brayden Sibbald 
Bri Clark 
Bughunt 
Butter 
Catherine Ashley & Kirsten Smith 
Cecilia Brandolini 
Charlie Wilde 
Dan Howls 
Davey Craddock 
Dawn Barrington 
Death by Denim 
Demon Days 
Didion's Bible 
Eden Mulholland 
Ella Munro 
Elsewhere/Rebecca 
Family Shoveller Band 
Farraday's Cage 
Feels 
Figurehead 
Flossy 
Gazey 
Geoff Waldeck 
Goat Faction 
Grace Armstrong 
Gracie Smith 
Grand Casual 
Hannah Mae and the Hoodwinks 
Helen Townsend 
Hell Average 
Hercules Morse 
Holographic Moon Society 
Homebrand 
Hussy 
Hyclass 
Intercontinental Sounds 
J.F.K. 
Jamilla 
Jeremy Von Kobra 
Josten Myburgh 
Juliana Areias 
Julie Kember 
Kaitlin Keegan 
King Ibis 
KOPANO 
Lachy John 
Legs Electric 
Leopard Lake 
Lillia 
Lucy Peach 
Mal de Mer 
Man Sandal 
Marksman Lloyd 
Marley Wynn 
Michael Savage 
Mick Charlton 
MissGenius 
Mitchell Ballardin 
Moana 
Myths 
New Talk 
NUCLEUST 
Odette Mercy & Her Soul Atomics 
Otiuh 
Paris Mitchell 
Platform 2 
Pot Plant House Party 
Priscilla 
Robert Hinton 
Sally Jane 
Samarobryn 
Savanah & The Strays 
Seasta Chani and the Twilight Heist 
Selkie Black 
Shangrila 
Shy Panther 
Sieche T0nn 
Statues 
Steve Hensby band 
Steve Pinner 
Suraj 
Symczycz/Jacobs 
T$OKO 
Tapping Stickz 
Teen Angst 
Tether 
The Chlorines 
The Crawdads 
The Floors 
The Hunting Birds 
The Killer Hipsters 
The Money War 
The Peppermint Club 
The Silent Sea 
The Stanleys 
The Struggling Kings 
These Winter Nights 
Tobias 
TOHST 
Turtle Bay Television 
Wolfbats 
Wooly Mammoth 
Xenobiotic 
Yomi Ship 
Young Jaycee 
Your Girl Pho 
Yully 
Zoë Dellaca 
ALREADY ANNOUNCED 
Anthony Lloyd 
Camarano 
Candy Guts 
Cruel Noon 
Doublethink Prism 
Duncan Saige 
Fields 
Georgia Reed 
Grace Sanders 
Great Gable 
Helen Shanahan 
JOYS 
Kallan Phillips 
Kat Wilson Trio 
Mark Turner 
Noah Dillon 
Pat Chow 
Ratking 
Ribs 
Ruby May 
Ryan Beno 
Skullcave 
Sly Withers 
SURAJ 
Tanaya Harper 
Tania Martin 
The Shakeys 
The Tommyhawks 
The Wilds 
Treehouses 
WAMFest presented by Act-Belong-Commit, and proudly supported by the City of Perth